VICTORIA FALLS – A tourist believed to be from Germany was attacked by a bull elephant while taking photographs of a small herd of the giant animals on Saturday.
The tourist, who has not been identified, has curio vendors to thank after they employed bush tactics to scare away the herd by clapping hands. One man used a catapult to propel stones at a female elephant and its calf which forced them to lead the herd away.
The man was in the company of a woman believed to be his wife walking along a footpath from a local hotel  going towards the Rainforest at around 5PM.
Witnesses said the elephant lifted the man and threw him on the ground before trampling him.
"We heard a woman screaming from the direction of Lookout Café and we rushed to the scene. A man was lying prostrate on the ground," said curio vendor, Anele Mpofu.
He said he quickly remembered that elephants can be scared away by hitting them with stones.
data-full-width="">
"I thought of how we could take the bull's attention from the man, and that's when I pulled a catapult and aimed at a female elephant and calf. I hit the mother on the ear and it turned to run away with the calf.
"Seeing that the female elephant and calf were walking away, the bull suddenly left the man. We grabbed the opportunity and carried him to a safe place."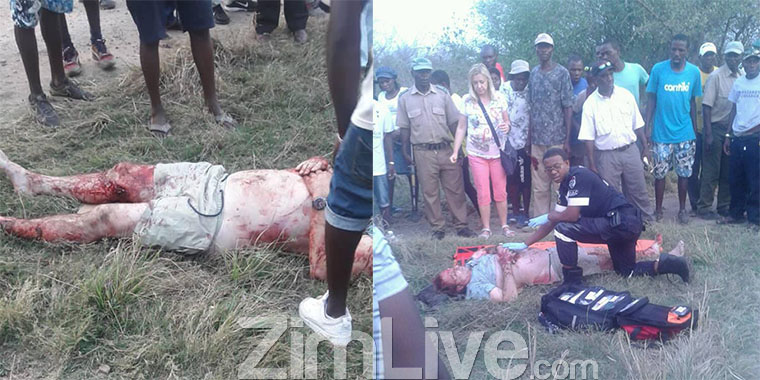 Mlungisi Mathe, a street hawker, said the tourist sustained a broken leg and arm. He was rushed to a private hospital in an ambulance.
A senior official from the Zimbabwe National Parks and Wildlife Management Authority (Zimparks) said they had launched an investigation.
A 49-year-old German woman was trampled to death by an elephant on August 26 at Mana Pools game reserve after she apparently left the protection of the vehicle she had been travelling in.
"The information we have is that the tourists encountered a herd of elephants when they were entering the park and they started taking pictures," said Tinashe Farawo, the Zimparks spokesman.
"We don't know what irritated the animals which resulted in the woman being attacked."
The woman was not named by officials.
Attacks by elephants are common in Zimbabwe which has a population of around 84,000 pachyderms.
Last year a trained elephant trampled a tour guide in Victoria Falls. Another local man was also killed in a separate incident last year after he had tried to drive elephants into the open to take pictures.-zimlive