Opposition Movement for Democratic Change (MDC-T) Member of Parliament for Bulawayo East, Thabitha Khumalo, was admitted to hospital after inhaling teargas fired by riot police near the party's headquarters in Harare on Wednesday.

It is reported that Khumalo is under medical care after suffering asphyxiation from dangerous tear-gas.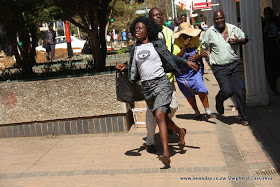 Police brutality knew no bounds as journalists including elected Members of Parliament were not spared, from their violent attacks. This is notwithstanding the widespread condemnation they have received in Zimbabwe and internationally after they made similar attacks on innocent civilians during the #Totalshutdown campaign.