BULAWAYO – The Southern African Development Community (SADC) is sending Angolan Foreign Minister Manuel Domingos Augusto to Zimbabwe this week, seeking to end tensions between the MDC Alliance and the Zimbabwe Electoral Commission (ZEC).
MDC Alliance leader Nelson Chamisa told a rally in the second city of Bulawayo that they had written to SADC chairperson President Cyril Ramaphosa of South Africa, inviting the regional body's intervention in their dispute with ZEC over election preparations.
The MDC Alliance is unhappy with a raft of issues, including the design of ballot papers and where they are going to be kept; privacy in the voting booth; postal voting; ZEC's refusal to provide them a voters' roll with pictures of voters and an apparent failure by ZEC to enforce the law on equal media access by parties.
Ramaphosa, according to Chamisa, was sending the envoy. Angola is the current chair of the Defence, Peace and Security organ in SADC.
"We wrote to SADC telling the regional body that the same meddling (former President Robert) Mugabe did in ZEC is still the same (President Emmerson) Mnangagwa is doing. Meddling that amounts to rigging elections, which undermines the peoples wishes and is unethical," he told thousands of cheering supporters at White City Stadium on Saturday.
Chamisa said SADC has understood the opposition's plight and hoped the mission team led by Foreign Affairs Minister would thoroughly assess the electoral situation when it arrives Monday.
"We disagreed with ZEC on the ballot paper and we said we don't want a fake ballot paper. We don't want a ghost ballot paper but need a genuine and authentic ballot paper. We also had issues when ZEC told us they had finished the printing process.
"But we want to know where they printed, with who and what time. ZEC should describe the entire printing process to us. As a party we told ZEC it can't conduct printing while we were absent, we have to be there to witness it happening," he said.
ZEC says it has finished the printing of ballot papers, and its chairperson Priscilla Chigumba has told the opposition that the matter is now "water under the bridge".
Nhamo yandakaona ?
Handicheuke ?
Handicheuke ? pic.twitter.com/L61rHZZJK4

— Edmund Kudzayi (@EdmundKudzayi) July 22, 2018
Chamisa told supporters: "Our grievances centre on three issues. First the issue of the ballot paper, we want a ballot paper that has been tested and is foolproof against chromatography.
"I sent my team to meet with ZEC, which has to start printing afresh. If resources don't allow, the least we are prepared to do is test ballot papers, batch by batch. When we have agreed on that we will then secure the ballots until they reach the voters. We will also want to change the colour of the ink used to vote. If we were to vote using blue pens, we will ask to use red. One will see how ZEC will scamper with regards to that."
Chamisa said he had a meeting lined up with ZEC on Tuesday, warning that if agreement is not found on the issues they were raising.
"We have said that we will hold a vigil until ZEC honours our demands, which are our constitutional right. That's what the liberation struggle was all about. We will not accept any nonsense. If we say Bulawayo shutdown, it will shut, same with Harare even that State House where Mnangagwa operates will do likewise," he charged.
Chamisa said ZEC had also been dishonest, even going to extent of alleging that servers containing the voters' roll were hacked.
He continued: "Why did ZEC give Zanu PF cellphone numbers of the voters, yet it has not provided the biometric data to us provided by our law in the constitution?
"ZEC also wanted to change the polling booth design so that voters voted in full view of the polling agent, a move which would strip away the secrecy of the vote, violating the voter's confidentiality. We also want the issue of the postal ballots to be addressed because police did tell us they voted in the presence of their seniors, which violates the Electoral Act requirements."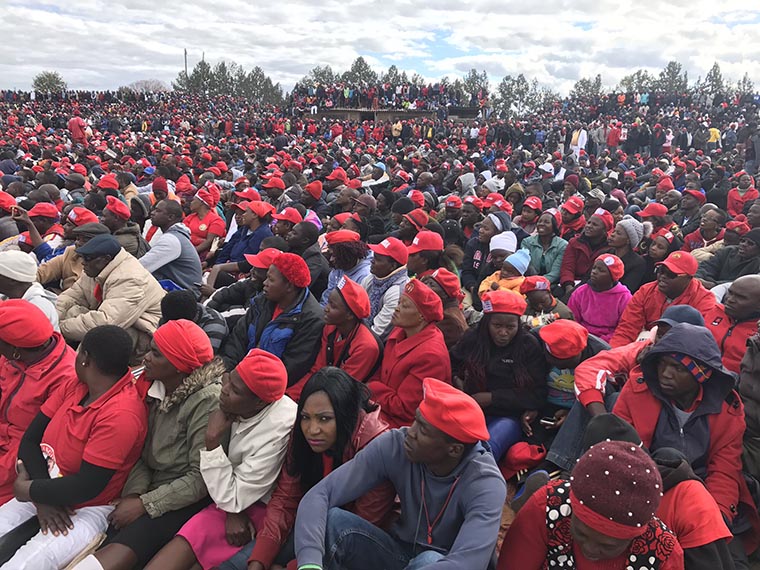 President Emmerson Mnangagwa, who came into power through a military coup last November, is facing his first election keen to avoid a disputed election which would do little to address his legitimacy gap.
Opinion polls show Mnangagwa and Chamisa neck-and-neck into the final week of campaigning.-Zimlive