HARARE – President Emmerson Mnangagwa has been sworn-in as President of Zimbabwe for a five-year term after a disputed election victory.
Five heads of state including African Union chairman Paul Kagame of Rwanda and SADC chairman Cyril Ramaphosa of South Africa attended the inauguration in front of thousands of people at the National Sports Stadium.
Chief Justice Luke Malaba, who read a judgment of the Constitutional Court last Friday dismissing an election challenge brought by MDC Alliance leader Nelson Chamisa, was cheered wildly by the crowds as he took Mnangagwa through the Oath of Office.
Taking his oath, Mnangagwa said: "I Emmerson Dambudzo Mnangagwa swear that as President of Zimbabwe I will be faithful to Zimbabwe and will obey, uphold and defend the Constitution and protect and all other laws of Zimbabwe and that I will promote whatever will advance, and oppose whatever may harm, Zimbabwe; that I will protect and promote the rights of the people of Zimbabwe; that I will discharge my duties with all my strength to the best of my knowledge and ability and true to the dictates of my conscience; and that I will devote myself to the well-being of Zimbabwe and its people. So help me God."
Mnangagwa takes over from former President Robert Mugabe, who was ousted in a military coup last November. Mugabe was not at Sunday's inauguration, although his daughter, Bona, and her husband, Simba Chikore, accepted invitations and were hosted in the VVIP section.
Regional leaders Edgar Lungu of Zambia, Prime Minister Thomas Thabane of Lesotho, President Joseph Kabila of the DRC and President Mokgweetsi Masisi of Botswana witnessed the swearing-in ceremony.
Chamisa and his MDC Alliance have rejected results announced by the Zimbabwe Electoral Commission (ZEC) giving Mnangagwa a narrow 50.8 percent outright win, later confirmed by the Constitutional Court. The MDC boycotted Sunday's swearing in and says it will pursue peaceful political action to "protect the people's vote".
The party is also taking its case to the African Human Rights Commission, arguing that the conduct of Chief Justice Malaba had denied the party access to justice. Malaba refused to allow the MDC to subpoena a ZEC server which the MDC said contained key evidence that would have shown that Chamisa won the election.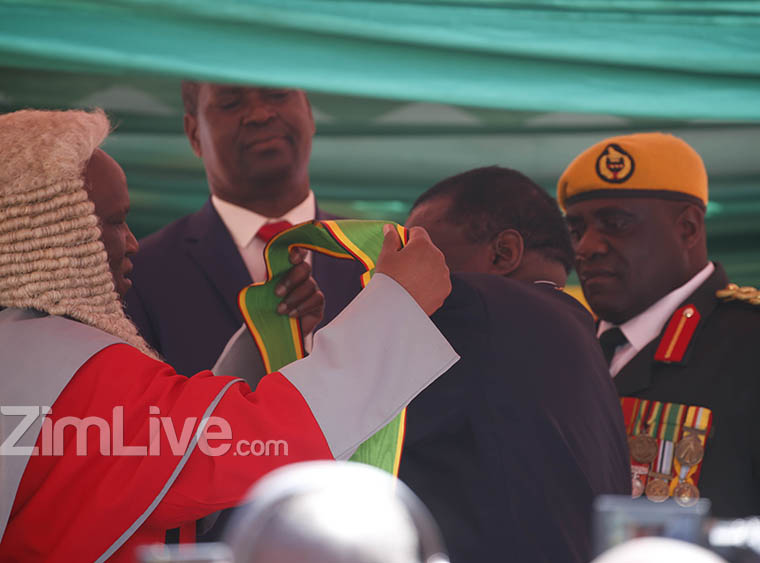 Losing Presidential candidate Thokozani Khupe and leaders of her MDC-T party faction including Obert Gutu, Priscilla Misihairabwi and Linda Masarira showed up after getting government invitations, as did James Maridadi, who lost a primary election for the MDC Alliance.
Mnangagwa, who has told Chamisa that his arms are outstretched and his door open, has the immediate task of trying to rehabilitate Zimbabwe's economy, but he may need the MDC's cooperation to unlock crucial bailouts from wary Western countries.-zimlive