HARARE – KFC Africa has announced the temporary closure of its four restaurants in Zimbabwe after the country plunged into its worst economic crisis in a decade.
Finger Lickin Good:KFC employee admits to pooping in KFC gravy since 2013
KFC, which only re-opened in Zimbabwe in 2014, said it was "unable to continue to trade due to the current pressure on the country's economy."
Zimbabwe fast food outlets shut down indefinitely amid cash crisis
"The currency challenges have affected our operations and supply and we are exploring various ways to reopen our restaurants soon," a statement from the company said.
"We generate new employment opportunities as we grow and with every new restaurant opening.  Our supply chain is heavily dependent on local suppliers and we are passionate about ensuring that these and all other partnerships are sustainable."
The fast food chain has two restaurants in Harare and one each in Victoria Falls and Bulawayo.
data-full-width="">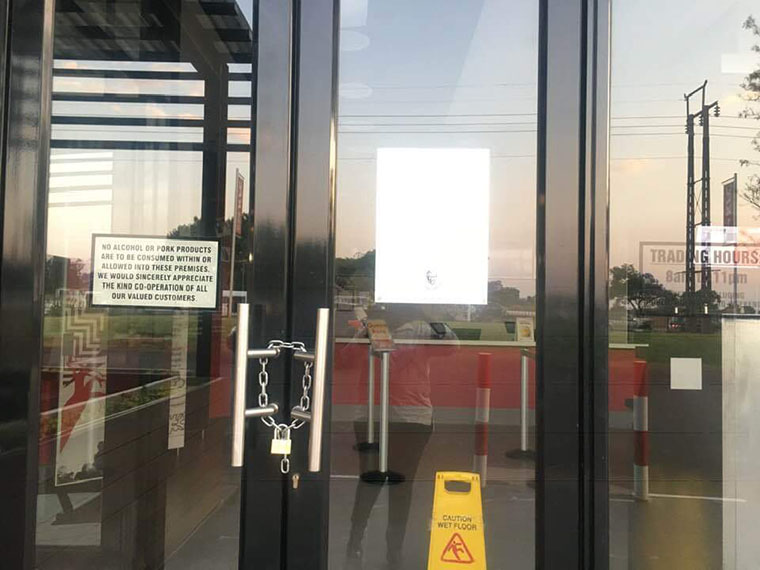 The economic crunch is increasing political tension after a July vote that was supposed to lay the foundation for Zimbabwe's recovery was instead followed by turmoil that left six people dead after an army crackdown.
The latest crisis was triggered by fiscal and monetary changes announced on October 1, including a 2 percent tax on money transfers and separation of cash dollars and foreign inflows from bond notes and electronic dollars, that caused the collapse of the surrogate currency on the black market.
When the changes were announced, $100 in bond notes was worth US$49 but was worth only US$26 on Wednesday.
Finance Minister Mthuli Ncube said the bond note and electronic dollars would remain officially pegged at 1:1 to the United States dollar as the government seeks to protect people's savings.
He said the government would also gazette rules protecting foreign dollar inflows to ensure the money was not taken by the central bank or government, good news for mines outraged by the United States dollar shortages.
On Thursday, some shops and restaurants had closed their outlets because some suppliers of goods and medicines were demanding cash dollars.
Basic items such as bottled water are now being rationed, even as the capital Harare faces a cholera epidemic that has killed more than 50 people. Even beer is rationed, to some outrage.
Queues for fuel snaked for hours, prices are spiking and residents goggle as the new government insists that the country — somehow — has risen to middle-income status.
More worryingly, drugs are in short supply in a country where the health system has long been on the brink of collapse.
Outside a pharmacy in Harare, Bridget Chikwimba shook her head. "I bought these same allergy pills for a dollar last week, today they are $13," she told The Associated Press. "I waited five minutes while they calculated the new price."
The country's Retail Pharmacists Association describes the shortages of medicines as "severe."
Many fear the current crisis, induced by foreign currency shortages and a ballooning debt, could spiral into the kind of collapse seen a decade ago when Zimbabwe's hyperinflation reached 500 billion percent, according to the International Monetary Fund.
Plastic bags of 100-trillion Zimbabwe dollar banknotes were not enough to buy basic groceries, forcing then President Robert Mugabe to form a "unity government" with the opposition and adopt a multi-currency system.
Retailers said the soaring rates for United States dollars on the black market, where they source most of their foreign currency, are making it difficult for them to restock.
"The parallel market is unsustainably high and has decimated confidence. Prices have been going up while margins are eroded," Denford Mutashu, president of the Retailers Association of Zimbabwe, told the AP.
Additional reporting Associated Press