Vice President, Rtd General Constantino Chiwenga, is all but set to become the country's next leader to lead a transitional administration, with the prospect of delayed presidential and parliamentary polls to July 2024, Spotlight Zimbabwe, has reported.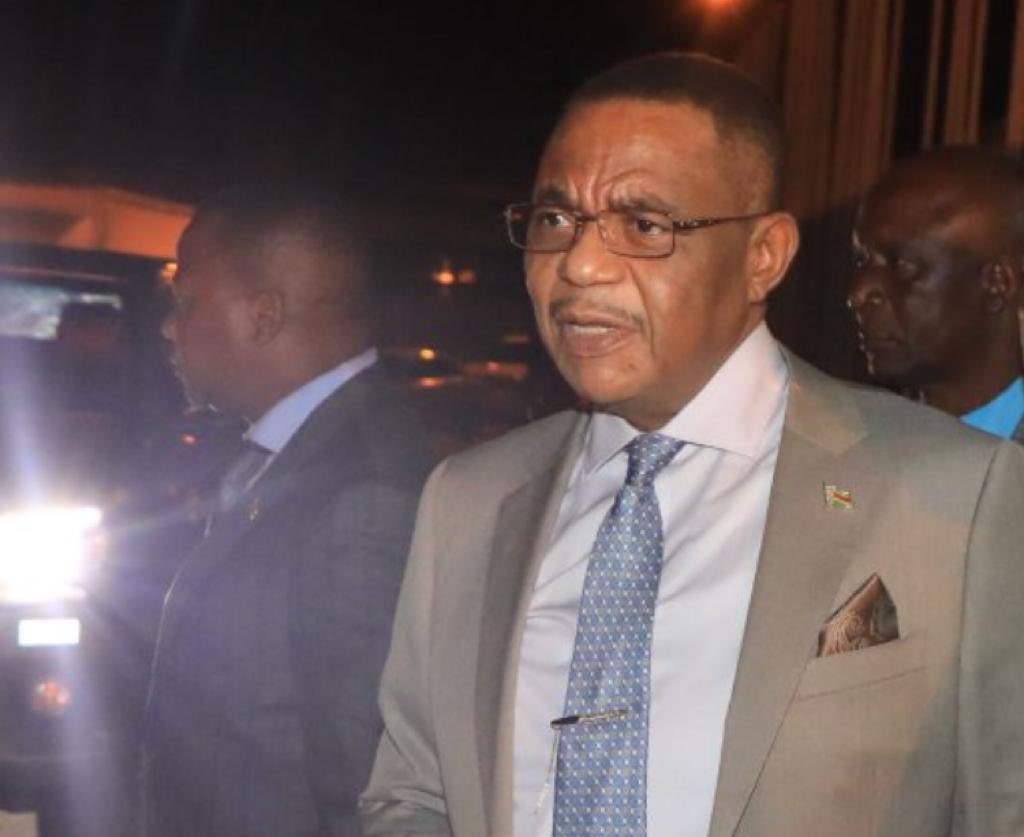 The vice president made a surprise and shock return home last Saturday morning, after undergoing life-saving medical operations at a military hospital in Beijing, where he was being treated by various specialists for over 120 days.
High level defence sources and confidential Asian diplomatic officials in the capital, this week said VP Chiwenga has allegedly been tasked by China to remove President Emmerson Mnangagwa from power in a non-violent manner, through resigning him or impeachment. The latter option and route, is said to have the full backing of the main opposition MDC Alliance led by Nelson Chamisa, amid growing fears and panic by Mnangagwa's inner circle that the former Zimbabwe Defence Forces (ZDF) Commander, might decide to indefinitely become acting president to implement the power change scheme, beginning next month.
Mnangagwa is expected to go on his annual leave and Christmas break soon after the Zanu PF 18th National People's Conference set for Goromonzi High School in Mashonaland East, next month, and is expected to name Chiwenga as acting president for about a month until the end of January 2020. The conference will run from 10 to 15 December.
"I can confirm to you today that big political changes in our country are brewing in the background," the defence sources said "The vice president has been tasked by China to remove the incumbent from power, because he now constitutes a threat to their economic and political interests in Zimbabwe, through his new but unwritten 'Look West Policy'. Beijing wants the VP to either resign the current leader using military pressure or go the parliamentary and more democratic path of impeachment, which already has the full backing of Nelson Chamisa's MDC Alliance. Remember one of their deputies Tendai Biti, has been calling for the president's impeachment and they have the numbers if they combine with disgruntled Zanu PF legislators to force the president out."

Writing on his twitter handle early this month, Biti said Mnangagwa and his government have become a threat to Zimbabwe's sovereignty.
data-full-width="">

"The currency confusion, power shortages, inflation, the doctors' strike and massive corruption have proven beyond doubt that Emmerson Mnangagwa has failed. He must step down or constitutional process must remove him," said Biti.

Defence sources added that Beijing has drawn a time frame and mind map for the VP, to instruct his military allies to put in operation, so Mnangagwa can be booted out, while Chiwenga becomes the country's president on a transitional basis, and pave way for his chosen successor to run a civilian government.
"China has actually drawn a time frame and political mind map for Chiwenga to implement, which will see him running the country on a transitional basis for about four years, meaning that the next presidential and parliamentary elections may be delayed and pushed to July 2024. The transitional mechanism will obviously include key positions for the opposition in government, setting the stage for a civilian leader picked by Chiwenga to takeover, and I'm sure you already know that it's Saviour Kasukuwere, who has already undergone Chinese scrutiny and approval."

Diplomatic contacts said the whole Chinese plan seem to have the closet endorsement of BRICS nations, who also feel that Mnangagwa's politics of re-engagement with the West is also toxic for their interests in Zimbabwe.

BRICS is the acronym coined for an association of five major emerging national economies: Brazil, Russia, India, China and South Africa.

"China is the main protagonist in kingmaking Chiwenga to takeover from president Mnangagwa, but it seems they have the closet support of Brics nations," a diplomatic official from Japan said last night.

"Zimbabwe has become an economic and financial war front pitting the West against China and her allies under the auspices of Brics. Countries like Russia have massive investments in Harare, and are against the Bretton Woods Institutions growing proximity to Mnangagwa's government. So basically even Moscow wants him gone, which is why he is not going to last in office during 2020 and the West cannot save him."

Another Asian envoy corroborated that Chiwenga is indeed poised to be president under a transitional government, and that Chinese air force and military experts were already on the ground in Zimbabwe, seconded at their embassy for "unknown reasons".

"The intelligence we have received suggests that China sent some air force and military experts to their embassy in Harare ahead of the vice president's return from China. This is the team we understand to have coordinated his flight and travel arrangements back to Zimbabwe on a Chinese government-owned military plane. They're definitely here for a reason, and we shall soon find out," revealed the envoy.

"China has now invested in your VP and his successor pick for the continuity of Beijing's strategic economic interests and political goals in Zimbabwe well into the future. The Chinese government even went further to pay for the vice president's very expensive surgeries not covered by the Zimbabwe government, to remove deadly poisonous substances in his system. Some of the reports we have received from Chinese journalists is that he was attacked using military grade poison. Honestly he is lucky to be alive, and one can say he has cheated death thanks to China, who also allegedly facilitated key organ transplants to give him a new lease of life."

So serious is the possibility of Chiwenga seizing power that Mnangagwa is said to be contemplating to remain in the country for his annual leave, according to a senior ruling party politburo member.

"Mnangagwa is afraid to leave the country for his annual holiday in December, because his inner circle and security fear that Chiwenga will force him into exile and he won't be allowed back into the country, while he might become acting president for an indefinate period. Ko munotii nezvirikuitika kumaControl Tower kuHarare International Airport? (What's your take about what's happening at the Harare International Airport Control Towers).

Zimbabwe's airspace was briefly closed and all flights scheduled to fly in and out of the country were grounded on Tuesady this week, after air traffic controllers downed their tools.

The Civil Aviation Authority of Zimbabwe (CAAZ), however posted a brief statement a few hours on Twitter after the reported disturbances to flights that: "Our airspace is open and flights are operating as normal."

There's been political drama in recent days at State House and the Zanu PF leader's presidential office, with critics interpreting the events as signalling Mnangagwa's embarassing end of days in office.
First was a shooting incident last week at State House, where a junior soldier reportedly fired shots into the air whilst on guard duty, complaining of "hunger" and was promptly taken into custody over the incident. On Wednesday, a mystery woman thought to be "mentally ill" stood in front of Mnangagwa's motorcade blocking it, as he was preparing to leave for a Kadoma youth rally, shouting loud prayers and conducting what appeared to be a spiritual rite.

Officials from the information ministry declined to comment on the story, saying it was "above our pay grade".

Chiwenga attended a site inspection of the new parliament building by Mnangagwa two days ago, marking his first public appearance since resuming official duties.-SpotlightZimbabwe