Zimbabwean activists who have survived of a wave of violence and abductions have urged the international community to stop turning a blind eye to the increasingly violent crackdown on dissenting voices "linked to (no one) else except the government of Zimbabwe".
Chairperson for NAVUZ' Central Business District, Kudakwashe Kambakunje, also known as Wellington or Welly, was kidnapped after 22:00 local time on 27 September in the centre of the capital, Harare.
Many believe the alleged abduction is linked to an incident that happened the previous day in Harare's business district, and more generally to the increasing role of the vendors' union inZimbabwe's political and social struggle.
According to witnesses, unidentified men came out of five vehicles – two twin-cabs and three small private cars – at about 22:00 before firing gun shots in the air with vendors trying to intervene as Kambakunje was taken away. After receiving a tip-off, NAVUZ members found Wellington the next morning on the Old Mazowe Road (bush road), badly wounded and left for dead.
'Abductions linked to the government of Zimbabwe'
Speaking exclusively to IBTimes UK from Harare, Chairman of NAVUZ claimed the government may be linked to the recent wave of violence and abductions – including that of Silvanos Mudzvova, a vocal activist within the Tajamuka movement who was kidnapped, tortured and left for dead more than a week ago
"The violence that is unleashed, the abductions, they are not linked to anyone else except the government of Zimbabwe," Zvorwadza alleged. "They have abducted a number of activists (…) to force people to succumb and coerce them to just in the end, respect Zanu-PF (the ruling party). This is a violent government which has a violent policy."
data-full-width="">
"When these things happen, they (attackers) are doing it with the total blessing of a state that protects them. The suffering that Silvanos and Wellington are going through is beyond imagination."
Mudzvova, who visited Welly in hospital on 28 September, believes the attackers may be the same as those who abducted him over a week ago.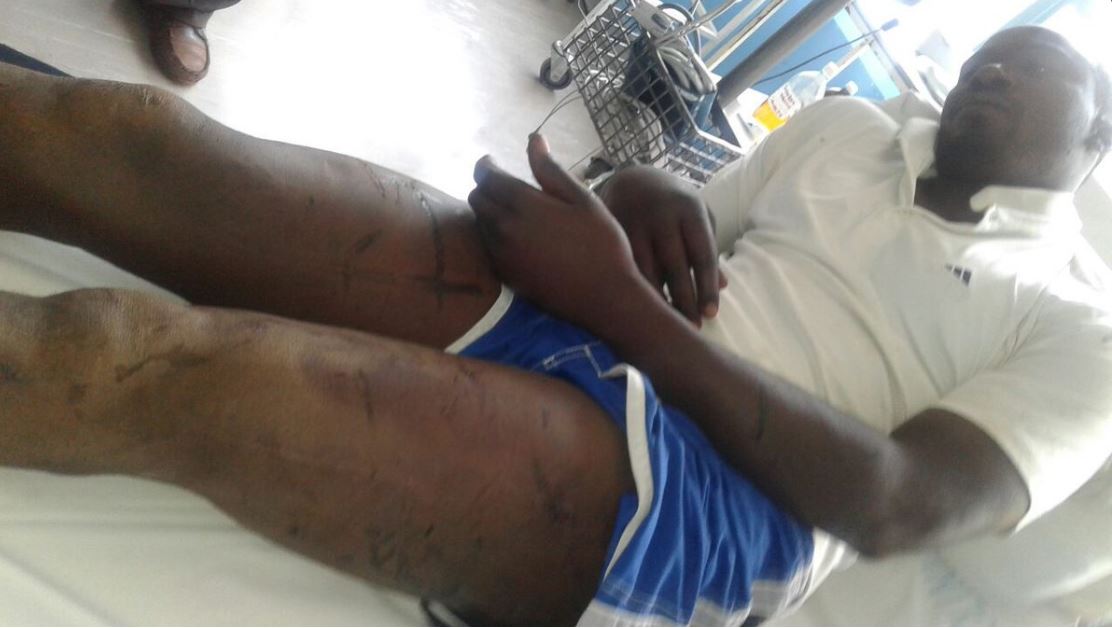 "The techniques they used when they interrogated him, the information that they wanted to know was the same – except they didn't want to know about Tajamuka, but about the vendors' association and some of its leaders," he said.
Highlighting how Welly was also taken to a bush road at night, and that the same number of cars were used during both kidnappings, Mudzvova described almost identical injuries.
"His body shows marks similar to mine – electric shocks, beatings – in the same body parts, mainly his thighs. As they did to me, they used some other object on his back. It is so badly hurt you could hardly look at it. Again, they didn't touch his face or head. It seems they avoided positions they knew were dangerous," he exclusively told IBTimes UK from Harare.
Suffering from psychological torture
According to Mudzvova and Welly, the attackers tortured them whilst interrogating them, before injecting them in the buttock and right leg, respectively, with an unknown substance.
Mudzvova, who was also injected with an unknown substance and explained how badly this is affecting him, psychologically, added: "I believe it is actually one gang that is actually doing this whole thing."
Zvorwadza, who visited both victims in hospital testified: "They don't know what has been injected in their body and they are just surviving on the belief that one day they will be alright. (…) But we never know, they don't know what really went on. I'm pretending to be strong, to be alright with him and I'm just encouraging (them).
"When I went to see Wellington yesterday, I said the same things: 'Wellington, you'll be alright, don't worry, this could just be water injected in you'. I'm just trying to give these guys strength but my heart, my heart is shattered to be honest."
Mudzvova described how Welly was confused, fearful and in shock. While he said he is not feeling the physical pain, Welly is distraught and fearing the consequences of the injection.
"While he is getting medication against the pain, there is nothing he can do for his brain. Because we don't know what substance it was, at times you are optimistic it was only water, but the minute later, you think it was toxic, that it will only come up in three or six months. It's that psychological effect of it that is so worrying. You can't think straight, you can't plan ahead. That becomes the biggest challenge," Mudzvova explained.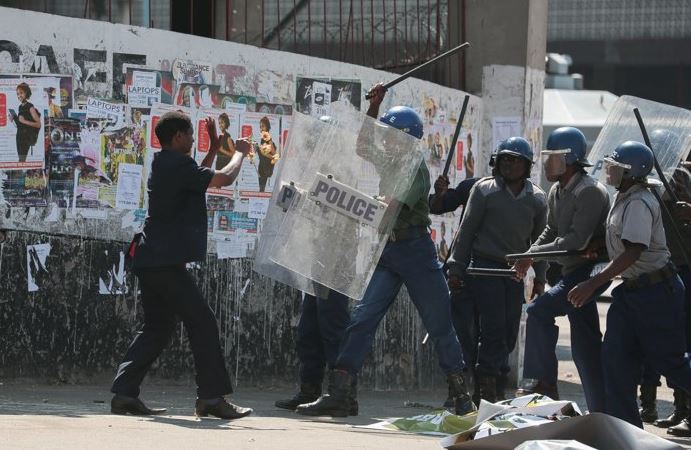 At the time of writing, Welly was still waiting for blood test results.
Zvorwadza: 'Hoping the fight for freedom will get us somewhere'
NAVUZ leader Zvorwadza, meanwhile, called on the global powers to push for investigations and the imposition of sanctions on those found guilty of carrying out and ordering crimes to be carried out.
"These things need answers," he said. "Where are you people? Where is the world? Where is the international community? Where is SADC (Southern African Development Community)? Where is the AU (African Union)?"
While he acknowledged the activists were fearful of the violence linked to their peaceful activities, Zvorwadza said they would not be deterred by the abductions.
"We are helpless, but we just hope that one day our fight for freedom will get us somewhere (…) If we don't, we are exposing even the children that we are going to have in the future. We are between two very sharp horns of the dilemma. One the one hand, we can't ignore the dictator continuing in this format – on the other hand, we are humans, we are exposed to risk, we are exposed to danger. But, do we stop? No, we don't. We are waiting in terms of coming up with a comprehensive objective that will see Zimbabwe free one day."
Zimbabwe's authorities were yet to comment on Welly's abduction.- IBTimes UK