HARARE – The country's biggest gold producer Metallon Corporation has put its Mazowe Mine under care and maintenance, rendering hundreds of its employees jobless.
The miner, whose local units include How Mine, Mazowe Mine, Shamva and Redwing Mine, is owned by South African mining magnate, Mzi Khumalo.
A majority of workers at Mazowe Mine have since been given three months notices pending dismissal, the Business Times reported.
"We are at home and we were given three months notices. The mine is already under care and maintenance and the same situation of retrenchments is going to hit the whole group soon," said the source.
The source added that at Shamva Mine, Metallon has since switched to open cast mine which is illegal in mining terms.
Efforts to get a comment from the mining group were fruitless.
data-full-width="">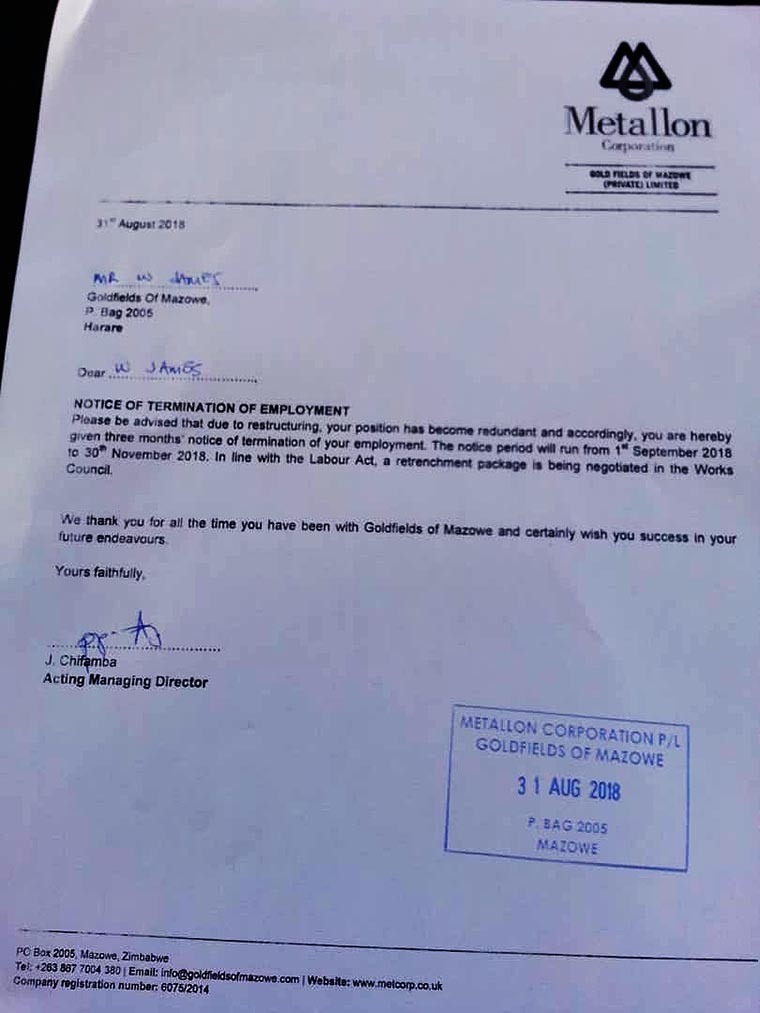 Metallon Gold Corporation has hit this new low amid revelations that the gold mining group is suffering neglect from Khumalo, a situation that is affecting productivity at the gold mining group culminating to multiple job losses at the group's two Mashonaland Central-based units.
The closure of Mazowe Mine comes despite the mining group recently announcing plans to invest $260 million on Gold Fields of Shamva and Mazowe Mine. The investment figure has since been dismissed by well place members of the executive as fake considering the current situation that the mining group is in.
Information gathered indicates that despite announcing positive production, financial results coupled with the current multi-million dollar investment plan, the gold mining group has been facing massive challenges which include non-payment of salaries for employees and alleged externalisation of mining proceeds. The current standing of the company has since claimed the scalp of chief executive Kenneth Mekani.
Another source at the mining group said there have been efforts to paint a brighter picture when in actual fact, the gold miner is facing massive operational challenges mainly blamed on the spiriting of funds from the company by the shareholder at the expense of developmental projects.-zimlive