JOHANNESBURG, South Africa – During a church service at the Alleluia Ministries in Sandton on Sunday afternoon, self-styled prophet Alph Lukau was busily running his regular theatrical show.
Several people in wheelchairs were dumping them and standing up. A few with crutches suddenly found their balance and strength, discarding their walking aides.
God was at work, the Democratic Republic of Congo-born Lukau told his congregation.
The Oscars were not set to be held until many hours later in Los Angeles, but Lukau had planned a curtain-raising act to rival any performance.
He had to feign surprise at what was about to happen next. One of his sidekicks – there are many with microphones at the same time – called his attention to a spectacle outside, where a hearse had pulled up with the body of a "dead man".
Cameras in tow, Lukau walked outside to the Kings and Queens hearse ready to pull off the ultimate miracle – a resurrection.
data-full-width="">
After the coffin was offloaded onto a table, and its contents revealed, Lukau had the demeanour of a magician who knew exactly where his rabbit was – he only needed to pull it out, and everyone would be eating off his hands.
Who was the dead man in front of him? He enquired. "Elliot," came the answer from a man Lukau knew as the brother, standing next to a woman who was introduced as Elliot's landlord.
"He died since Friday. He was in a mortuary!" Lukau exclaimed.
Two mournful women, identified as the "wife and the mother of the wife" to Elliot, were summoned to "come here!" by the man of God. They shuffled to one end of the coffin. The cast was complete, now ACTION!
Lukau, surprisingly wearing no gloves, then touched the "dead man" on the chest.
"Hello Elliot."
Elliot, lifeless and mouth agape, remained a picture of death.
The man of God then broke into tongues briefly. What's a good movie without anticipation and a climax?
Lukau, by now clearly established as the main actor, hovered his hands over the dead man, from head to toe. Then came the clincher. He held Elliot at the waist with both hands and hey presto! Elliot sat up. Mouth still open, and eyes even more so, the modern-day Lazarus surveyed the room as the church absolutely went bonkers.
"What's this?!" asked one of the microphones in excited disbelief.
"Never seen before," came a female voice on the other microphone.
"The coffin is empty!," shouted another as Elliot was helped off to stand on his twos.
After he finally sat down, Elliot did what many of us quietly pray for: Eating at your own funeral. It was as surreal as it sounds.
Social media was by now buzzing. Few took Lukau seriously. How could his followers get scammed so easily, many wondered?
ZimLive went digging, and after a series of interviews with people connected to the events, it became clear that the purported resurrection was an elaborate con planned over weeks, if not months. The plan came together, finally, during a few hours on Sunday morning.
First, a woman walked into a branch of the Kingdom Blue funeral parlour in Johannesburg. She told staff her name was Priviledge Ncube. She wanted a coffin for a relative, one Proud Mlamnjwa, who had died in the rural areas.
After selecting her coffin, she paid R5,500 in cash and left.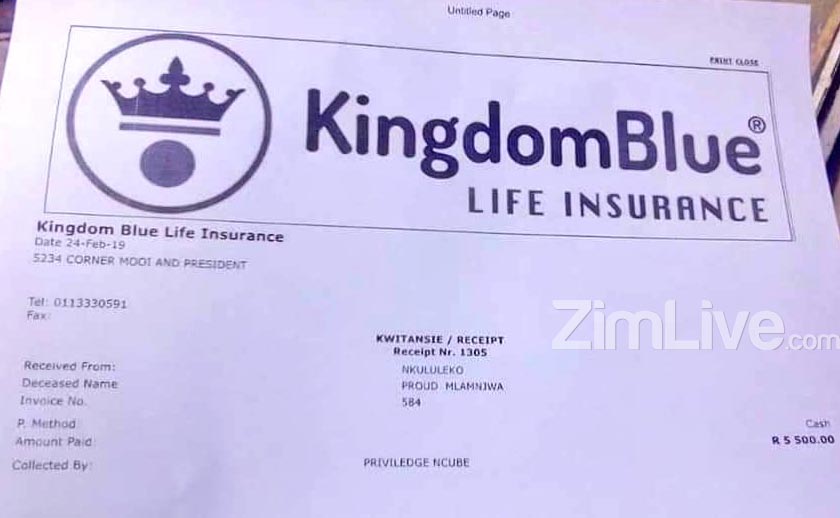 Next, they hired a Toyota Quantum people carrier from a man who has been named only as Nkosi. They put stickers of another funeral parlour, Black Phoenix, on the vehicle without that company's knowledge, or permission.
The next stage of the plan was to go to Kings and Queens. There, the man identified as Elliot's brother at Lukau's church, stepped forward, telling staff that his name was Prudence Ngwenya. He had lost a cousin, one Proud Sibanda, but they had a little problem.
"The people using the Black Phoenix-branded vehicle outside misrepresented that they were from that company, which cooperates very well with Kings and Queens," lawyer Prince Mafu, who has been engaged by the three companies, told ZimLive.
"Their story was simple. Black Phoenix had a hearse crisis, all their cars were out and they were down to the Quantum. So, they needed a hearse to go and pick up a body at the Black Phoenix mortuary for burial. At that point the coffin was transferred from the Quantum to the hearse.
"Kings and Queens were only too happy to help because of an existing relationship. They provided only a driver because there was an understanding that Black Phoenix undertakers would take over. That's precisely why Kings and Queens did not insist on paperwork."
Ngwenya paid R2,000 in cash to hire the hearse.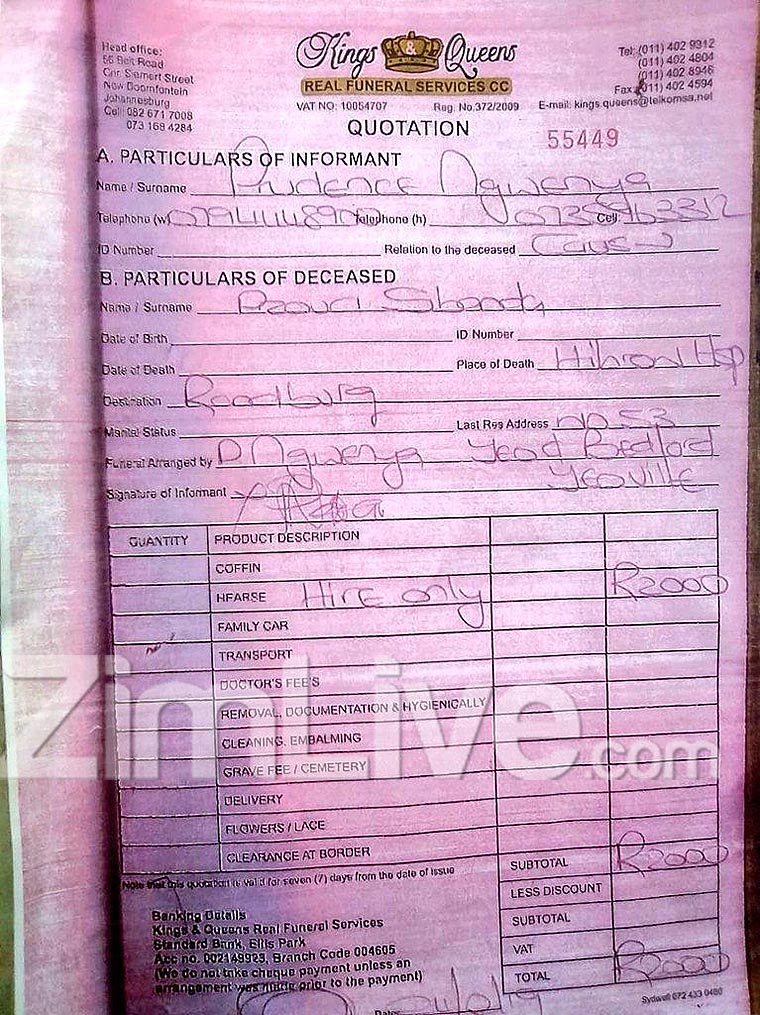 Mafu said the Kings and Queens driver, still under the impression they were driving to Black Phoenix to pick up a body, was surprised when he was told by the group that they wanted to pass through Lukau's church. Mafu insists that the driver had no reason to look inside the coffin because he believed it was empty at that point.
The driver had, however, noted that the coffin was loosely closed.
"These people did all the lifting themselves because Kings and Queens were not the undertakers. They had only paid for transport," Mafu said.
Once at Lukau's church, Mafu said the Kings and Queens driver was asked by one of the "family members" for use of his phone to make a call. The phone was never returned.
Cue the Lukau show.
 -zimlive