Zimbabwean President Robert Mugabe celebrates his 91st birthday this month – and partygoers are set to dine on elephant.
At least 20,000 people are expected to attend the lavish celebrations just outside Victoria Falls on 29th February.
Prominent farmer Tendai Musasa told the Zimbabwe Chronicle he has donated game meat and a lion trophy worth £78,000 towards the event.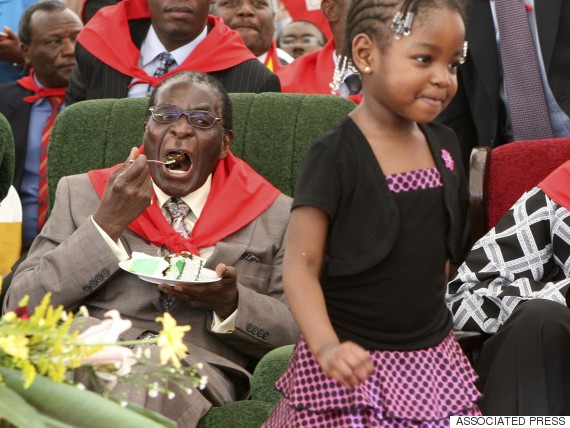 Robert Mugabe chowing down on birthday cake on his 85th
In total Musasa says he has supplied two buffaloes, two elephants, a lion, two sables and five impalas.
data-full-width="">
Describing the menagerie as "a perfect gesture", he added the animals would be slaughtered a few days ahead of the big day with the meat being stored by a local hotel.
He dismissed complaints from other villagers who claimed the animals involved were part of their annual hunting quota and that the donation would deprive them on income, declaring them "enemies" of the president.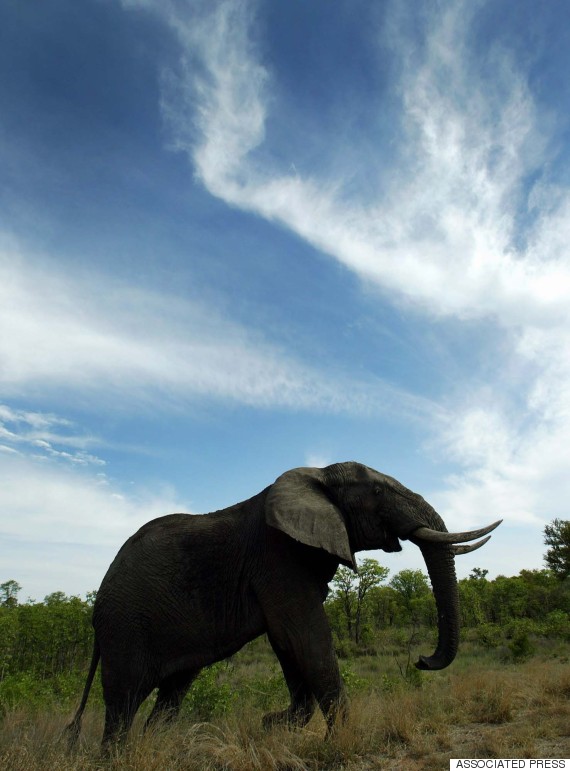 Two elephants have been donated to the feast
A spokesman for the Zimbabwe Conservation Task Force told the Guardian: "I am not in favour of anyone donating wild animals for a celebration or for any other reason.
"They have been doing this for years now. Every time there is a celebration or on independence day, several elephants and buffalo are killed for the celebrations. This is totally unethical and should not be allowed."
SEE ALSO:

'Accept My Victory Or Commit Suicide', Robert Mugabe Tells Zimbabwean Rivals
'Britain Is A Cold, Uninhabitable Country With Small Houses' Rants Robert Mugabe Ahead Of Zimbabwean Elections
Mugabe's birthday parties are traditionally sumptuous affairs in a country which suffers from severe economic problems.
Last year the £600,000 celebrations saw 90 balloons released into the air from a stadium and huge cakes displayed at a stadium east of Harare.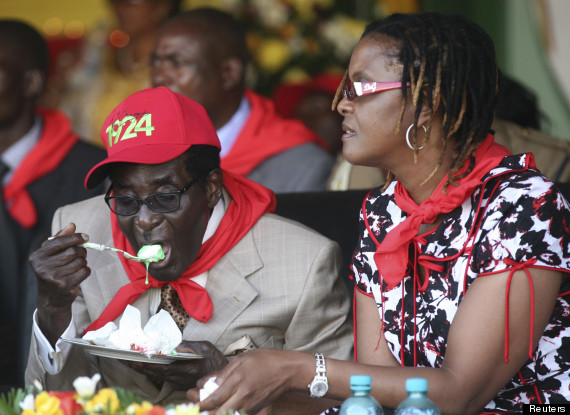 Mugabe tucked into ice cream at his 89th birthday party
His 89th birthday saw the dictator presented with an 89kg cake and 89 cattle from the country's central bank. Gold coins bearing his face were also minted for the party.
Zimbabwe, a once-prosperous nation of 13 million people in southern Africa, struggled after Mugabe's government began seizing white-owned farms in 2000.
Mugabe was accused of using widespread violence to win several disputed elections, according to human rights groups.
The country suffered hyperinflation until it abandoned its currency for the U.S. dollar in 2009.
Robert Mugabe's life in pictures
Getty Images

AP Photo

Getty Images

AP Photo

AP Photo

AP Photo

AP Photo

Getty Images

Getty Images

Peter Macdiarmid/Getty Images

Getty Images