Human rights lawyers in Zimbabwe say they have received numerous claims of police brutality after a crackdown on protesters demonstrating against President Robert Mugabe.
Sky News has spoken to several, including a journalist who was arrested during the demonstrations a fortnight ago and claims he was tortured in jail while awaiting bail.
The 92-year-old president is facing growing discontent in his country in the face of serious economic problems and soaring unemployment after more than three decades in power.
Three people – a man and two women – met a Sky cameraman in a safe location and described how they were beaten up by riot police.
data-full-width="">
'Mary' – her name has been changed – said she was beaten shortly after gathering for the mass protest in the Central Business District of the capital, Harare, a fortnight ago.
The 65-year-old said: "They were beating us using baton sticks and my hand is broken. They were also asking why an old person like me is working with the opposition to remove the Mugabe Government.
"But I told them clearly that I was hungry and I have no money to feed my grandchildren whose parents died. The current Government is useless. It doesn't care about ordinary people."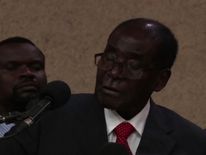 Another, who is being called Phumie, said: "I am a street vendor and on 26 August there was chaos in town during the protests.
"Police started throwing teargas and blocking main roads, beating everyone on site. They threw teargas canisters straight on to us and we had nowhere to go and it was tough.
"I was affected so much by the teargas and I am very sick. I have chest pains and my ribs are really painful. It's very sad our Government is treating us like this. We are treated like enemies of government."
The hospitals in the capital are treating several people who claim their injuries were caused by police beatings.
One young woman who agreed to talk to Sky (there is a great fear that by speaking out they will be targeted again) said how police broke her ribs and she's still finding it hard to breathe.
"I am so worried for my children," she said.
The judiciary reasserted its independence when a judge overruled a police ban on further protests, declaring the boycott unconstitutional. But there have been no large groups of protesters yet to test this.
A small gathering which grouped in central Harare on Friday was quickly dispersed by police using teargas.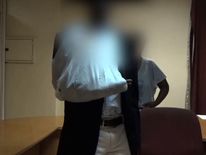 A much larger gathering is planned for 17 September when hundreds of anti-government groups are set to unite in opposition.
Human rights activists will be watching to see how the police and authorities respond.
Sky's cameraman filmed long queues outside banks in the capital.
People try daily to withdraw their money but a shortage of cash in the country means many banks have imposed restrictions on withdrawals.
"We're only allowed to take out fifty dollars," said one man. "My rent is 150 dollars. It's just not enough."
Another spoke of not being paid for three months and how difficult it was to exist with no salary and restrictions on accessing her own savings.
"The bank runs out of money and I have to pay my children's school fees," she said.
The lack of public funds is a real problem for the country's ageing president.
And the economic hardship plus his advanced years means Mr Mugabe is at his weakest right now – politically and physically.
He was recently forced to dismiss reports he was seriously ill or dead after he diverted to Dubai on his return from a southern African summit.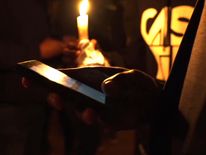 "It is true. I was dead. I resurrected. As I always do," he told reporters on landing in Harare last Saturday.
He went on to issue what was perceived as threats against the judiciary, criticising them for allowing the demonstrations to go ahead and blaming their decision for the violence.
The authorities appeared to have also stepped up their intimidation of journalists, arresting several.
Freelance photographer James Jemwa had his camera confiscated and was held in jail for nearly a week, where he says he was tortured and beaten.
The use of social media in rallying support and voicing criticism against the president was very effective at the start of the 'This Flag' protests led by a religious leader called Pastor Evan.
But it has since prompted the authorities to consider tough new laws where citizens who post negative comments online risk arrest and having their equipment removed.
The attempt to try Pastor Evan on grounds of treason – for calling a general strike – saw the judiciary and hundreds of lawyers uniting and effectively forcing his release.
But the Pastor has since left the country taking his young family with him to America – and there's no news of when he's likely to return.-Skynews