President Emmerson Mnangagwa's cabinet is with immediate effect give  99 year leases to all white commercial farmers .
The government has announced the issuing of 99-year leases to white farmers an increase from 5. This is a full blanket instruction to all government district officers that they must with immediate effect ensure that every white farmer obtains the lease.
The farmers had been previously discriminated against by former President Robert Mugabe, and in recent months government was giving them 5-year leases while their black counterparts were getting 99-year leases.
A letter from the Ministry of Lands, Agriculture and Resettlement which ZimEye.com reveals dated the 19th of January 2018 and addressed to acting provincial resettlement officers is below: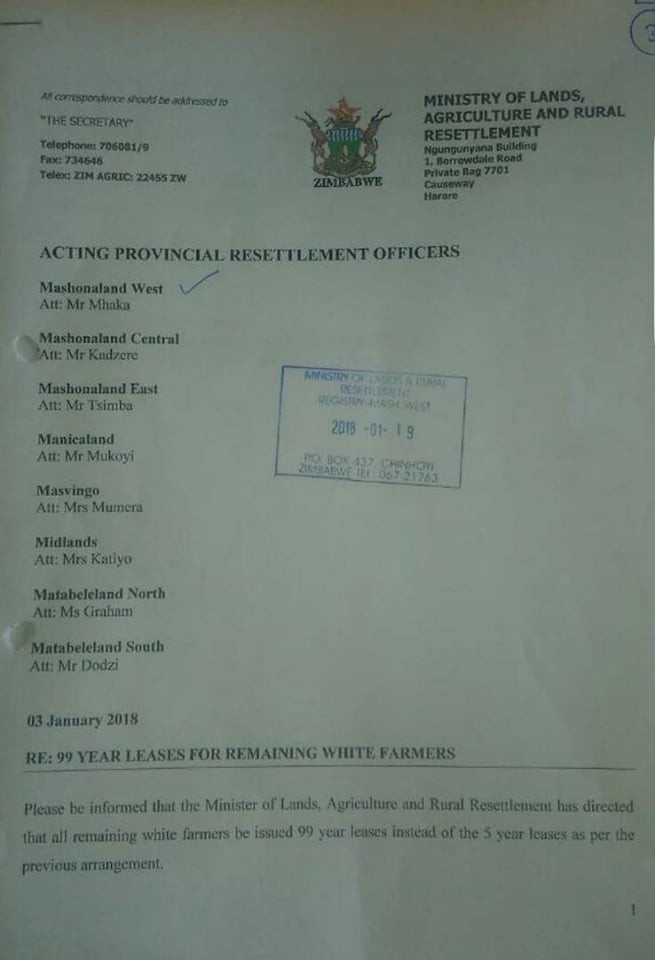 data-full-width="">
"RE: 99 YEAR LEASES FOR REMAINING WHITE FARMERS
Please be informed that the Minister of Lands. Agriculture and Rural Resettlement has directed that all remaining white farmers be issued 99-year leases instead of the 5-year leases as per the previous arrangement…"