A Zimbabwe-bound bus burst into flames on a busy South African highway on Wednesday morning.
At least 17 people were treated for minor injuries after jumping out of windows as flames engulfed the Apaco Coaches & Chamvari Tours bus which was coming from Cape Town.
The fire, which quickly spread to the trailer, destroyed Christmas groceries for the devastated passengers who stood a distance from the bus, watching as fire fighters tackled the blaze. A few 8kg gas tanks had been pulled from the bus and placed on the side of the road.
The bus was northbound on the N1 highway near the William Nicol off-ramp in Fourways, Johannesburg, when passengers say one of the front tyres suddenly burst.
"The driver tried his best to make the bus stop. We broke the windows and got out from there," said one of the passengers, Albert Maphosa said.
On the bus were pregnant women, small children and elderly people.
data-full-width="">
Johannesburg Metro Police Department spokesman Wayne Minnaar said: "We are still going to investigate the cause of the fire. At this time there are no deaths, and I'm not aware of any serious injuries."
Both lanes of the busy highway were blocked to allow access to emergency vehicles. Fire fighters later opened the trailer to reveal charred groceries which included cooking oil and flour. Few items were saved.
Some passengers stood barefoot, with bandages around their legs, hiding scars that nearly claimed their lives.
"We tried our best to rescue the people through windows. We lost all of our belongings, everything is gone," Maphosa said.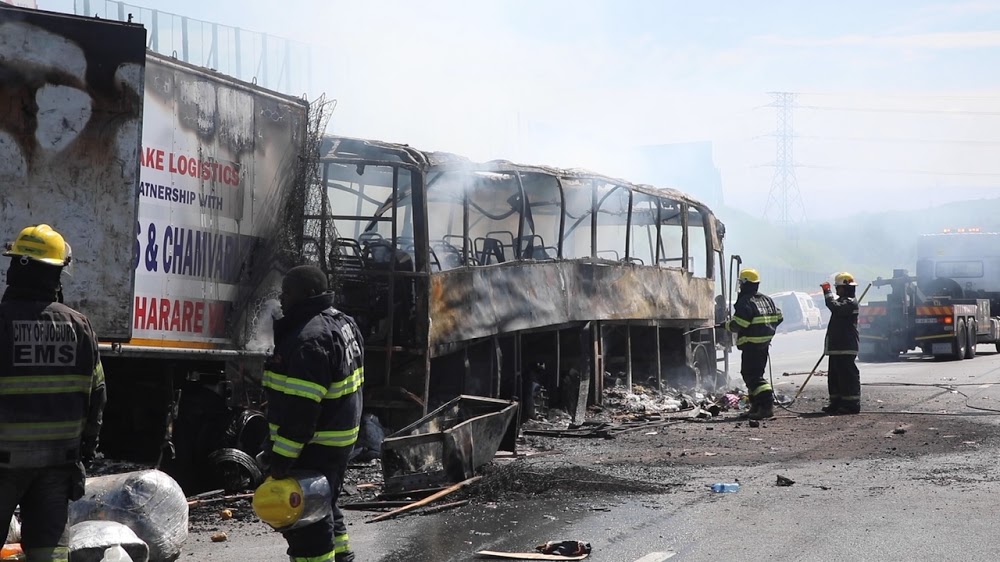 Marieta Kariwa, who was also on the bus, said she was helped out through a window by fellow passengers.
"When I got outside, I realised that I left my jacket behind. It had my passport and R10,000 in it. I don't have my jacket or anything. I have nothing. My kids' clothing, their toys and all of our Christmas stuff gone," Kariwa said tearfully.
She said she would have to return to Cape Town to work to earn more money.
"I want to go back and work for my children because they don't have nothing now. I'm a single mother of three, because their father passed away."
Nyarai Zvikaramba said she was travelling with bags from customers.
"Our business is to transport goods for people living in Cape Town. They ask us to take their stuff to their families back in Zimbabwe. Most of the bags had Christmas groceries," she said, battling back tears.
"I was very scared and panicked. I just jumped through the window and then I thought about the kids in the bus. I then ran back and helped the kids. There were pregnant ladies in the bus too and some of them fainted."
The Apaco Coaches & Chamvari Tours bus was headed for Harare via Gweru.