data-full-width="">
HARARE – The fraud trial of two showy businessmen Genius Kadungure and Wicknell Chivayo opened on Tuesday with the two pointing fingers at each other.
Kadungure denied defrauding Evon Gatawa of over R1 million in 2012, telling a magistrate that he was in fact a victim. He accused Chivayo of dragging him into the case.
Chivayo said he had never transacted with Gatawa.
Four witnesses testified within three hours.
Gatawa took to the stand where he narrated how the two allegedly duped him of R1,046,890 using a fictitious company account after he entered into botched mining equipment supply deal.
"I almost fainted when I received our parcel," said Gatawa, who had ordered and paid for mining equipment.
"The parcel was very small, certainly not what we expected. We received four cellphone chargers instead of mining equipment. Only then did we realise that we had been duped."
Gatawa is into the mining business together with his brother, Enock.
Gatawa and his brother told court they do not know how Chivayo was involved in their case, but they had established that Kadungure owned the bogus company, Transco Engineering.
He told court they had tried to negotiate with Kadungure, who was evasive prompting them to report him to the police. But he says they were frustrated by lack of action by the police and prosecutors.
"We were told Chivayo was involved but he was never on the list of wanted suspects. I even went to National Prosecuting authority (NPA) to complain to the chief law officer (Chris) Mutangadura but there was no progress. The accused were not arrested. Nothing was happening to our case," he said.
Gatawa said he was advised by his brother to arrange for an out-of-court settlement. They contacted Kadungure and he agreed that he would pay $100,000.
He said by that time, their houses which they had surrendered as surety after they secured loans from BANC ABC to pay for the equipment were being advertised for sale.
Gatawa said they then withdrew charges against Kadungure who only paid $20,000.
But Kadungure, who is being represented by Jonathan Samukange, said he only agreed to pay the money to avoid being dragged to court.
A D. Kabwebwe, a friend of Kadungure's wife Zodwa, told the court that Kadungure needed R500,000 to purchase wholesale gas from South Africa, but he only had United States dollars in Zimbabwe. She had played middleman between Kadungure and Chivayo, who lent him the money.
Kadungure, she testified, gave her the equivalent $50,000 which she handed over to Chivayo.
She said Kadungure was shocked to hear that the money he used to buy gas may have come from proceeds of crime before he confronted Kabwebwe, who told him that she got the money from Chivayo.
Kadungure's estranged wife, Zodwa, also took the stand in his defence, saying Chivayo even apologised to her for having dragged her husband into the mess.
"He called and he sent some messages saying sorry for getting Genius in trouble. He even confirmed the transaction by offering to help with legal fees before he promised to clean up the mess," said Zodwa.
But Chivayo says the fact that complainants say they don't know how he is connected to the case was proof that he is innocent.
The trial continues on Thursday.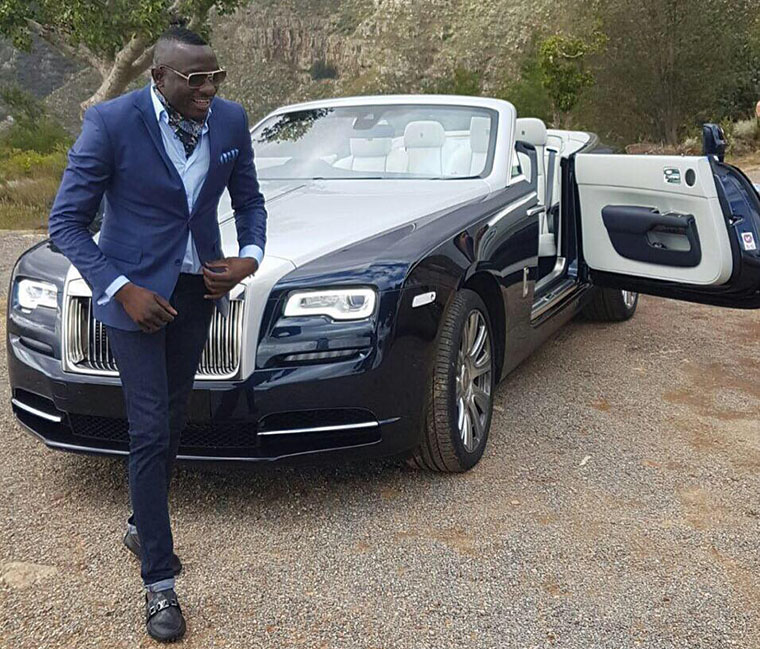 Prosecutors say sometime in November 2012, Chivayo and Kadungure connived and created a fictitious company called Transco Civil Engineering (Transco), purportedly based in South Africa, and opened an ABSA bank account.
They allegedly opened an email account procurement@marangediamonds.compurporting to be Marange Diamonds and renting computing space at Hetzner (Pvt) Ltd in South Africa.
Chivayo and Kadungure, acting in connivance, then contacted Gatawa, the managing director of Even Mine and Milling Centre in Kadoma and misrepresented that they were buyers at Marange Diamonds – an actual diamond mining company – and were looking for mining pumps.
They allegedly gave Gatawa an order to supply 10 T-90 Transco-Flo Helical Rotor pumps and referred him to Transco, knowing that it was a fictitious company.
Gatawa then sent his younger brother, Enock, to deposit R446,900 into the ABSA account on December 4, 2012. A further R600,000 was deposited later the same day in two instalments.
After transferring the money, Gatawa contacted Transco and was told to return to Zimbabwe and wait for delivery of the pumps from DHL within three days.
Gatawa got a parcel that had cellphone chargers instead and realised that they had been swindled.
Kadungure, the court heard, used R500,000 to buy gas from Reatile Gas in South Africa and another R500,000 was transferred to Edward Teka's bank account. Teka, say prosecutors, stated that the money was later withdrawn and handed over to Chivayo and Kadungure.
The total prejudice to Gatawa was R1,046,890.
The two men face a second count of defrauding Chegutu West MP Dexter Nduna using the same modus operandi.-ZIMLIVE