HARARE – A leaked secret memo reveals how President Emmerson Mnangagwa's paranoid intelligence services use state media to denigrate civil society organisations while claiming to be "pre-empting" plots.
A November 21 memo marked 'SECRET' from State Security Minister Owen Ncube to the Central Intelligence Organisation director general Isaac Moyo was leaked online, and has been verified through his signature.
In it, Ncube discusses what he claims are "plans by the United States embassy to fund a workshop for a subversive organisation called Front Line Defenders at its Chancery from 2 to 10 December 2019."
"Part of the purpose of the workshop is to train subversive civil society organisations on ways of sustaining demonstrations," Ncube says.
Ncube tells Moyo that their "operational branches" can "pre-empt the US agenda through various media platforms, including The Herald and The Sunday Mail."
Ncube sees an opportunity to "expose the American hand in political problems affecting Zimbabwe" during the visit of Hilal Ever, the United Nations Human Rights Special Rapporteur on the Right to Food, who arrives this week.
data-full-width="">
"We will not achieve much by allowing them to conduct the workshop which is aimed at undermining the country," Ncube said.
As if on cue, The Sunday Mail ran a story under the headline, 'US plot to fund subversive NGOs exposed.'
"Fresh evidence has emerged of yet another plot by the United States to fund opposition-linked civil society organisations to destabilise the country through sustained civil unrest," the Mail reported, citing sources.
The Mail, expanding on Ncube's memo, claims that "the agenda of the workshop includes training civil society organisations on… how to outsmart the police."
This, according to the paper, "is a change in tact as recent opposition demonstrations, such as last week's illegal Hope of the Nation Address (HONA) by MDC-Alliance leader, Nelson Chamisa, have been swiftly dealt with by the police."
Piers Pigou, the Southern African consultant for the International Crisis Group said the memo and subsequent planted story in The Sunday Mail was "emblematic of how polluted the Zimbabwean state is, and how contrary its actions remain in the face of its stated reform and re-engagement promises and commitments."
Pigou questioned how the Front Line Defenders, an Irish-based human rights organisation founded in Dublin, Ireland, in 2001 could be considered as "subversive".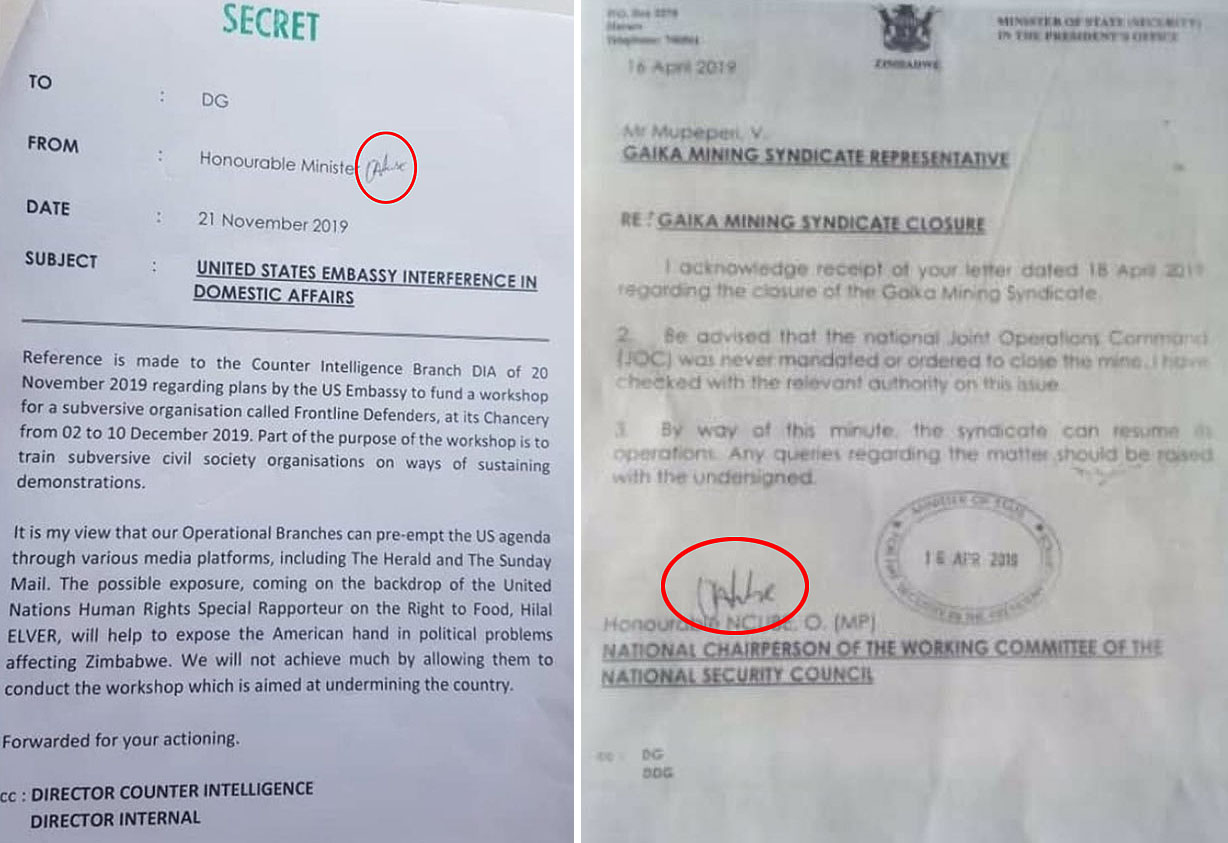 On their website, Frontline Defenders says it "provides rapid and practical support to human rights defenders at risk" through various ways including international advocacy on behalf of human rights defenders at risk; grants to pay for the practical security needs of human rights defenders; trainings and resource materials on security and protection, including digital security as well as "rest, respite and other opportunities for human rights defenders dealing with extreme stress."
"In emergency situations, Front Line Defenders can facilitate temporary relocation of human rights defenders," it adds.
"Front Line Defenders was founded… with the specific aim of protecting human rights defenders at risk, people who work non-violently for any or all of the rights enshrined in the Universal Declaration of Human Rights."
In May, the state-run Herald newspaper accused activists who attended a workshop organised by non-profit Serbian organisation, the Center for Applied Nonviolent Action and Strategies (CANVAS), in the Maldives of being "hard at work laying the groundwork for civil unrest."
Seven activists were arrested after returning home and charged with "subversion", accused of plotting to overthrow Mnangagwa's government.-ZIMLIVE